PRODUCT OVERVIEW | ACCURATE POWDERS
Accurate Powders is a company that definitely lives up to its name. The complete line of smokeless powders for handguns, rifles, and shotguns is engineered and lab-tested to maximize the precision and performance. Accurate uses the best ballistic technicians and the highest quality components together to assure that every gun is better served with Accurate Powders. 
Accurate No. 5 is a fast burning, double-base, spherical handgun propellant. This Smokeless powder is extremely versatile and can be used in many handgun calibers.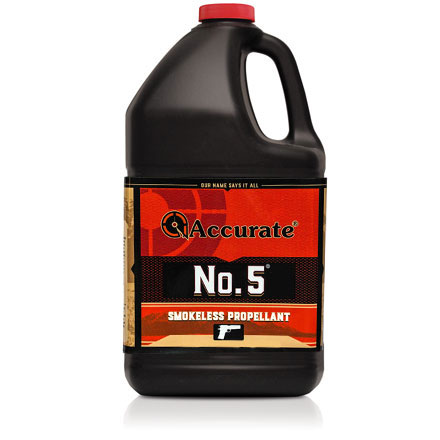 No. 5 offers a wide performance range from target and Cowboy Action applications to full power defense loads. This powder meters well and strikes a good balance between ballistics and cost efficiency. 
Warnings from the Manufacturer:
Specifications | Accurate no 5 powder load data
Product Information
| | |
| --- | --- |
| Weight | 8 lb |
| Quantity | 8 Pound |
Delivery Information
| | |
| --- | --- |
| Shipping Weight | 8.350 Pounds |
| DOT-Regulated | Yes |
| HazMat Product | Yes |